WCF Fuels North West distribute kerosene heating oil and diesel throughout Lancashire. We are proud of the speed and efficiency of our delivery service and have tankers based at Carnforth and Leyland. We are able to offer a range of services which include:
Heating Oil Top-up service
Planned payments
Small tanker delivery service (only available in certain areas, please call to ask)
Gas oil additives
Text prices to commercial or Agricultural businesses
If you would like any more information on these services then please call our friendly sales team on 01524 733669.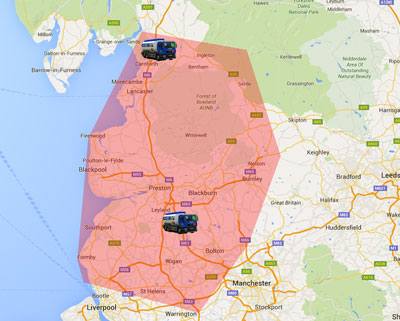 Lancashire
has a population of 1,449,300 and an area of 1,189 square miles (3,080 km2) with approximately 11000 homes that rely on heating oil for heating. WCF are located just a few miles from the county town of Lancaster and also have tankers located near the administrative town of Preston. Our fleet of tankers are ideally placed to service the vast majority of these heating oil reliant homes with quick and efficient deliveries.
Whether you live on the Fylde coast or in Formby, Blackburn or Burnley, Clitheroe or Chipping WCF Fuels North West have been a local, independent supplier throughout Lancashire since 1911 so you are assured of an experienced, friendly service each and every time you need a delivery.
Call our Lancashire based office on 01524 733669 for more information.