Red diesel is used in the UK mostly by agricultural and commercial businesses in machinery such as tractors, combine harvesters, cranes and forklifts and other non-road going machinery. It is also used occasionally by commercial units and schools as a form of heating oil.
Storing red diesel
Typically red diesel is stored in an oil tank with an integrated fuel meter and filling hose. This allows for the safe transfer of fuels when filling up machinery. WCF Fuels recommend that you buy a bunded tank to prevent spills should the tank split. You should also regularly check your tank for any cracks or weak spots.
Diesel bug
If water is present in a storage tank, red diesel can develop "diesel bug". Water can appear in the tank from condensation developing on the internal side wall of the tank and dripping down and settling at the bottom of the tank. This layer of water can build up over time and create a breeding ground for bacteria. The bacteria take oxygen from the water and nutrients from the red diesel and grow into a slimy layer between the two liquids. If this layer is sucked into machinery when filling it can lead to blocked fuel filters and possible damage to the fuel pump and pipes leading to a costly repair bill.
Diesel bug can be prevented by regularly testing your tank for water and dosing with Anti-bug Protect additive. If your tank is already affected by diesel bug then it can be treated with Anti-bug kill additive which is a much stronger dose of additive which should clear the bacteria build up in around 36 hours. If you would like more information about our additives please
click here
or call our sales team on 01524 733669.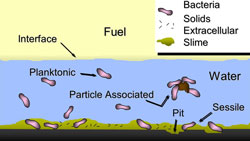 This image shows how diesel bug can grow in your red diesel fuel tank.
Waxing up
Red diesel will "wax up" during periods of cold weather. Typically this tends to happen in Winter but can happen in Autumn when a metal tank gets wet and the wind chill can lower the temperature further. Once the diesel has waxed up it needs to be warmed up again to get it back to its original viscosity. during winter months the fuel is treated with an anti-wax additive by the refinery which increases the wax point. If you plan to purchase fuel during the summer/autumn months and store it over the winter months then we can supply the anti-wax additive as an extra and treat the fuel at the point of delivery. This will ensure your diesel is usable throughout the colder months.